Family castings offer a stunning and unique keepsake. Combine hands from siblings, parent and child, grandparents or couples in fine plaster, preserving in stunning detail for many years to come.
Casting Packages
My family casting packages include a home visit to take the initial moulds, your chosen finish, mounting on a plinth and delivery of the finished casts. Casts can be finished in natural (white), silver, pewter, copper or bronze. An engraved plaque with a message of your choice is included. The process from taking the mould to delivering your completed casts takes approximately four weeks.
Couple Casting
A beautiful couple hand cast is the perfect way to capture moments in time such as engagements, weddings and anniversaries. Hands in an embrace can show your rings in exceptional detail.
Price: Couple casting £130
(Includes casting, mounting & delivery)
Adult & Child Casting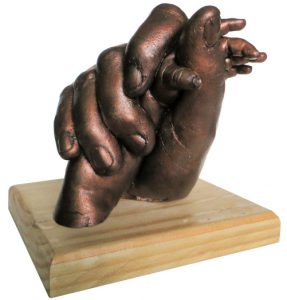 Capture the bond between parent, or grandparent, and child – their hands don't stay small for long. These type of cast is best suited to children old enough to understand they need to hold your hand for approximately 2 minutes.
Price: One adult and one child £110
(Includes casting, mounting & delivery)
Family Casting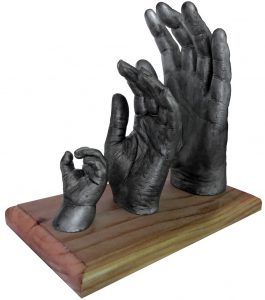 Capture the whole family either holding hands together (depending on number and understanding of children) or cast individually and displayed together on an oak plinth with an engraved plaque.
Price: Two adults and up to two Children £150
(includes casting, mounting and delivery further adults and children can be added please ask for a quote)
Save
Save