Family castings offer a stunning and unique keepsake. Combine hands from siblings, parents, children, grandparents or couples in a variety of ways, preserving precious moments in stunning detail for many years to come.
When you visit my studio I'll take moulds from your hands – the process varies slightly depending on the type of cast you'd like. From the moulds I make castings in fine plaster that, after drying, can be finished in a wide range of colours. The finished casts can be mounted in a range of ways or framed. The full process from taking the mould, through drying to final finishing takes approximately eight weeks.
Family Hand Row
Individual hand casts finished in your choice of colours and mounted together in a frame or on a oak board.
Prices: Prices vary depending on the combination of hands and frame size, for example…
Two children £170
Three hands £195
Two adults, child & baby £250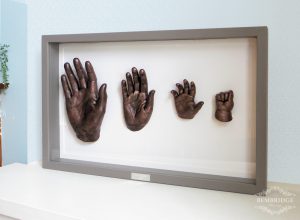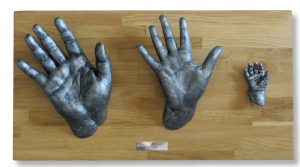 Family Tree Casts
A combination of adult and child casts – these can mix side hand casts for adults or teenagers with feet or hand casts for younger children to make a whole family tree. Casts are mounted either in a frame or on an oak board.
Prices: Please contact me to discuss combinations and pricing, for a rough idea…
Parent and child £190,
Two parents and child £235,
Two parents, child and baby (as pictured) £290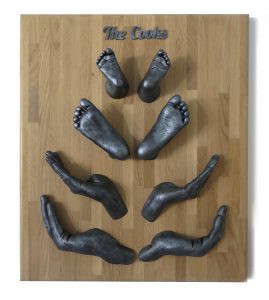 Family Hand Clasp
Hand clasps can include a combination of adult and children – capture the bond between parent, or grandparent, and child – their hands don't stay small for long. Casts can be taken with family members holding hands or taken separately and arranged together on a plinth.
Prices:
Two hands £150
Three hands £180