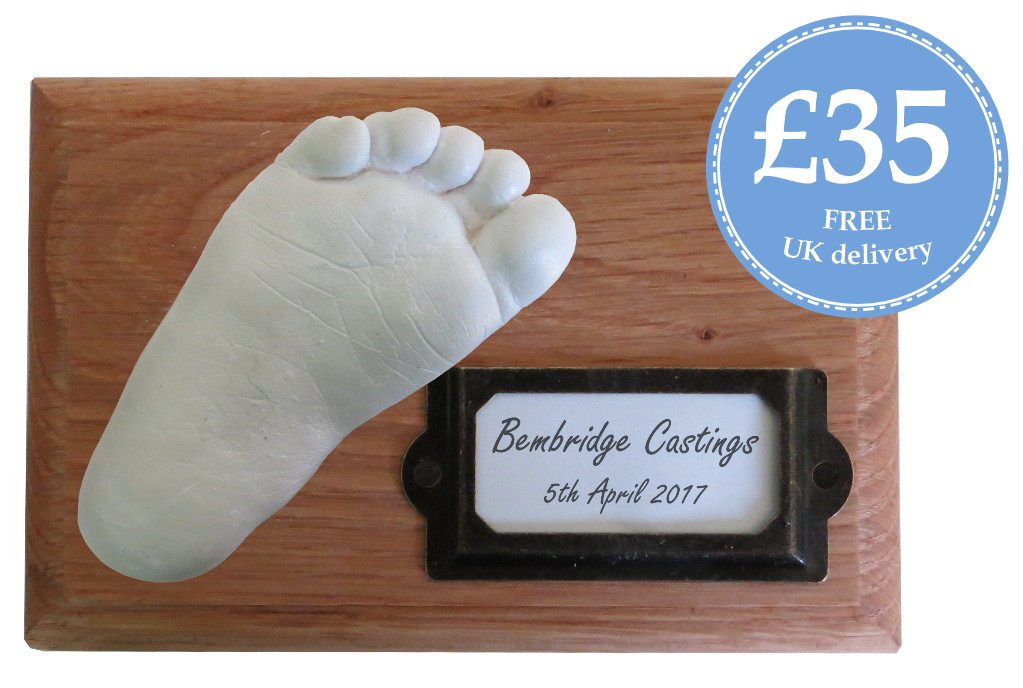 The Bembridge Baby Foot Casting Kit is packed with the items you need to create a beautifully detailed cast of your little ones toes and mount it on a oak plinth. Babies grow so fast and this is the perfect way to preserve the memory of just how tiny their little feet are for years to come.
Gift Boxed
We want you to be delighted with your kit the first time you see it, so no tatty jiffy bags – our casting kit comes carefully gift boxed. This makes it a great option for a baby shower, new baby or Christening gift or just to enjoy unwrapping yourself.
What's Included
Alginate Moulding Powder
Stonecast Plaster
Casting Container
Wooden finishing tool
White Sealer
Paint Brush
Oak Plinth
Super Glue
Name plate & 2 screws
Sandpaper
Instructions (with photos!)
How to Order
Click the buy now button below to order your kit now and pay through paypal (includes credit & debit card payment options:
If you have any questions or would like to pay with an alternative method contact me on izzy@bembridgecastings.co.uk
Currently we only accept orders for delivery in the UK.
FAQ
How many casts can I take?
The container included in the kit will fit little feet up to approximately 12 months old, and there is enough moulding material provided to take three casts. However babies feet sizes do vary, so instructions are provided for calculating the amount of moulding material for larger (or smaller) containers – any suitable sized plastic tub can be used.
How easy is the kit to use?
The kit comes with detailed instructions with colour photos to guide through the casting process. It's very important you read them all the way through before starting as the moulding material does set quickly. It's also helpful to have one person holding the baby and another casting.
Will I need anything not in the kit?
You'll need scales to measure to powder, a mixing bowl, measuring jug and some warm water for making the casts – a cloth to catch any drips is a good idea too. Then you'll need a small screwdriver and pen for the name plate.