Couple castings offer a stunning and unique keepsake; perfect for celebrating engagements, marriage, anniversaries or just to celebrate that special someone. Combine your hands together in fine plaster, preserving in stunning detail your love for many years to come.
Couple Casting Package

My couple casting package costs £150.  Everything is included in the price – your visit to my studio to take the initial moulds, casting, your chosen finish, mounting on a plinth, and an engraved plaque with a message of your choice. Casts can be finished in natural (white), silver, pewter, copper or bronze (see options).  The process from taking the mould to completing your cast takes approximately eight weeks.
Your Rings
One question I get asked a lot is, "is it safe to cast my rings?". The casting process uses a non toxic algae based moulding material which removes cleanly without harm. Rings are replicated in amazing detail in the finished cast. Here are some examples: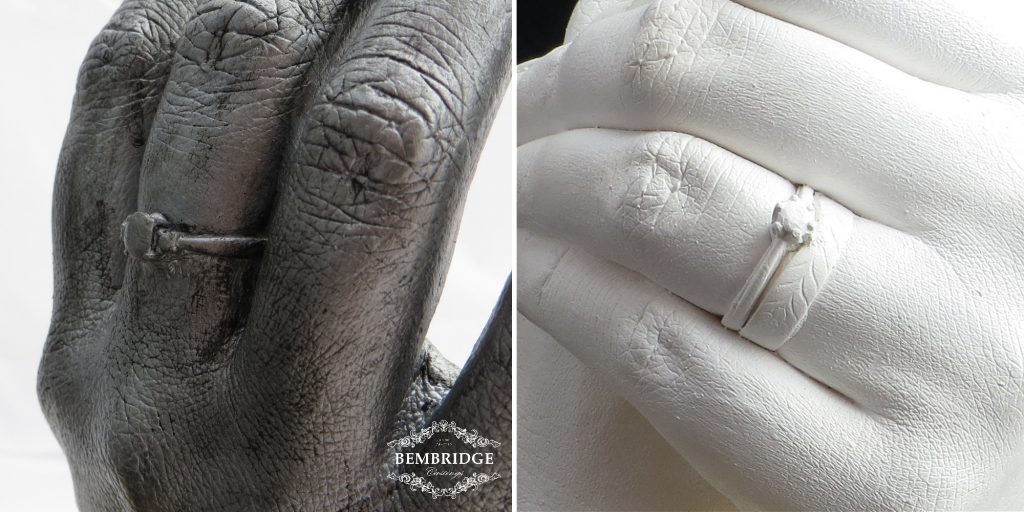 Completed Couple Cast
Here is a beautiful cast I took for a lovely couple celebrating their first anniversary.
A complete couple casting package costs just £150.
If you have any questions or would like to book your casting please contact me.