Baby casting captures the memory of your little ones hands or feet in fine plaster, preserving in stunning detail their tiny little toes and fingers for many years to come.
Casting Packages
My baby casting packages include a home visit to take the initial moulds, your chosen mounting option and delivery of the finished casts. Casts can be finished in natural (white), silver, pewter, copper or bronze and left free standing, mounted on an oak plinth or framed. For plinths and framed casts an engraved plaque with a message of your choice is included. The process from taking the mould to delivering your completed casts takes approximately eight weeks.
Free-Standing Casts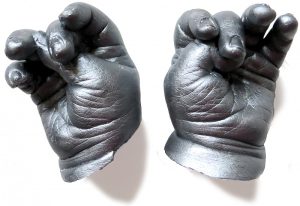 Free-standing casts are left unmounted, and can be finished in natural (white), silver, pewter, copper or bronze effect.
Price: 1 Limb £30 / 2 Limbs £45
(Includes casting & delivery)
Plinth Mounted Casts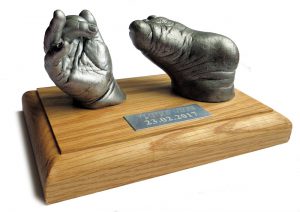 After your cast is completed in your chosen finish it's mounted on an oak plinth with an engraved name plaque. Plinths are solid oak (not veneer) and hand made to order to fit your casts. If you'd like an alternative wood to oak please ask, I'm always happy to tailor a package to your needs.
Price: 1 Limb £45 / 2 Limbs £60
(Includes casting, mounting & delivery)
Luxury Box Framed Casts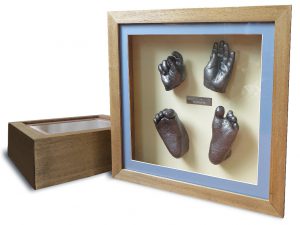 Completed casts are mounted in a deep box frame with an engraved name plaque. Unlike some cheap frames I use deep rebate box frames (handmade in the UK) so the side of the frame is finished as well as the front – this means your casting looks good from any angle.  Frames are available in a range of finishes including oak, beech, white, black, blue or pink, and with a choice of mount colours so you can completely customise your finished casting to match your home and personal preferences. Find out more about box frames casts.
Price: 2 Limbs £95 / 4 Limbs £120
(Includes casting, framing & delivery)
Baby's First Christmas Bauble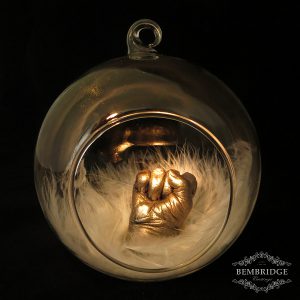 For Christmas 2018 I'm offering the option of baby casts displayed in glass baubles. There is limited availability and casting sessions must be booked in prior to October 15th. To find out more please see here.


Prices include casting sessions in Leighton Buzzard & surrounding villages for children under 12 months – for other services please contact me.
Save
Save
Save
Save
Save
Save
Save
Save
Save
Save
Save
Save